When you reflect on your workweek, how much of your time is spent working on the big projects that are a part of your job? How much of your time is spent fielding a range of small requests here and there? My guess is that many of you devote a lot more time to the latter than the former. Then, at the end of the week, you are faced with the awful feeling that you didn't accomplish that much and you are now more behind than ever.
Truth be told, many of us experience this in our jobs. We get requests from the Finance Committee asking for a report on last week's donations to the Missions fund after a missionary came and spoke to your congregation. We get requests from our directors for a report to track the progress toward our latest fundraising target. We get requests from our lead pastors who want to know every time a donor makes a donation for the first time. And we get many, many more like these.
There is nothing wrong with these requests, but they do take time that we could be using on other projects. They are also pretty simple tasks. The good news is, while GivingFire cannot eliminate every small request you receive, we can at least help automate Email Reports and generate Instant Notifications to help alleviate some of the workload.

Email Report Overview
Email Reports (Reports > Email Reports) are an easy way for you and your organization's staff to receive automatic, regular updates on your church without having to login to GivingFire. You can set these up to run either weekly or monthly, and both reports show two main categories of data:
1) Donation Activity
This is the first section - it shows a basic ledger of all incoming successful donations, along with donation frequency, date received (not settled), donor name + email, donation amount, and fund.
2) Recurring overview
The second section shows an overview of recurring donations with actionable steps to follow up with donors as needed. The fields included are:
Total recurring: a count of all active recurring donations
New recurring: a count of all new recurring donations made this week
Stopped/Paused: a count of all stopped recurring donations (whether automatically by the system, or manually by the donor) and paused recurring donations
Failed: a count of all failed recurring donations. These are in active recovery mode by the system, often due to a cancelled credit card or overdrawn account.
A detailed list of all new, failed, paused, and stopped accounts is included, if applicable, under the count section.
Email reports can be set up for all funds, or one specific fund, and can be set up to run either weekly or monthly. You can use this to send fund-specific emails to key stakeholders who don't otherwise have access to GivingFire reports. For example, a missionary with their own fund at your church might receive their own fund's weekly or monthly email, which includes names and emails to thank new recurring donors or follow up on stopped donations.
Finally, email reports have the option of including a weekly or monthly reconciliation report CSV. This is the same CSV we recommend in our accounting document Reconciling Your First Month. Note that the CSV report is different in that it orders transactions by settle date, not created date for accurate bank reconciliation. However, it's a much easier way for accountants and bookkeepers to automatically get donation records in their inbox.
Weekly reports are sent out once per week, every Monday morning. They automatically contain records from the preceding Monday through Sunday. Likewise, monthly reports are sent out once per month, on the first of the month. They automatically contain records from the preceding month.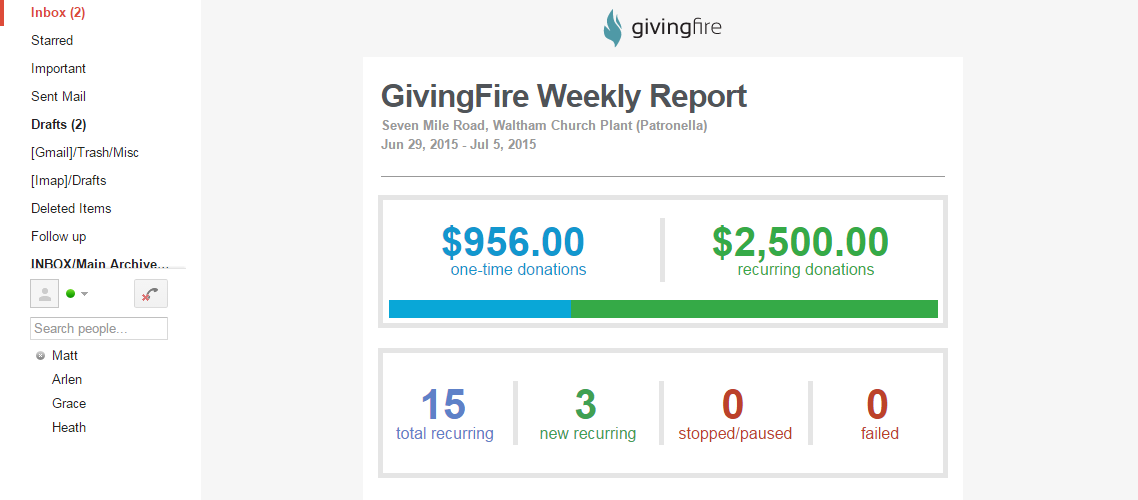 Instant Notifications/Webhooks Overview
Instant Notifications are custom alerts that are generated when a specified action occurs on your GivingFire account. You can send notifications directly to people (through customizable email or SMS messages) or to applications (through HTTPS POST webhooks.)
Notifications are customized on a per-action basis and have one endpoint each. For example, you can set up a notification to email the executive director (endpoint) whenever a donor gives more than $500 but less than $5,000 to the Capital Campaign fund (action). You can then set up an additional notification to text the executive director whenever a donor gives more than $5,000 to the Capital Campaign fund. Finally, you can set up a webhook to send all donations to a custom reporting dashboard. Notifications work well together and there's no limit to how many notifications you can set up, so we recommend creating a wide variety of different notifications to best suit how your non-profit responds to donations as they come in.
Email Reports and Instant Notifications are extremely powerful tools to automate your workflow and communication within your organization. If you'd like to get started but would like help thinking through how these tools can help your organization, contact your Account Manager or email the support team at
support@givingfire.com
. We'll be happy to help!
New to GivingFire?
We're passionate about solid donation management for churches and non-profits, and we're trying to bring honesty and transparency to a murky industry. If you need help figuring out donations, we'd love to talk.
Contact us HERE or take a look at our main site at givingfire.com.